DREAM - DRAW - DO
  Create a beautiful vision map, and manifest your dreams.  
 Self-paced course + live meetings in 2023  
Your vision board on steroids!
Do you want to manifest a year of joy and creativity?
Do you love vision boards? 

But you're fed up with cutting out other peoples' images from magazines?
If you draw your own images, your map becomes even more powerful!  Come and join me to create a portable dream map & project planner! 
The dream map & planner

I will guide you through drawing your vision, wishes and goals on a beautiful map, and help you extract the first steps into the dream project planner. Here I show you the result of a map-making workshop.

The process of drawing the vision is a powerful process that enables you to intensely visualize your goals. Instead of endlessly leafing through magazines and cutting out other people's pictures, these drawings are coming from yourself, and will trigger whatever it is you had in mind when you drew it. 

When you enroll, you get immediately access to the course. And you can keep the course material.
Plus, you can come to the Visual Thinkers' Business meetings in 2023!
Here is what you get: 
Inspiring goal-and vision setting exercises
Hands-on workshop how to do your map and your planner
Practice & feedback sessions in the inner circle meetings of the visual Thinkers' Business Club in 2023
Here is a screenshot of the course lessons: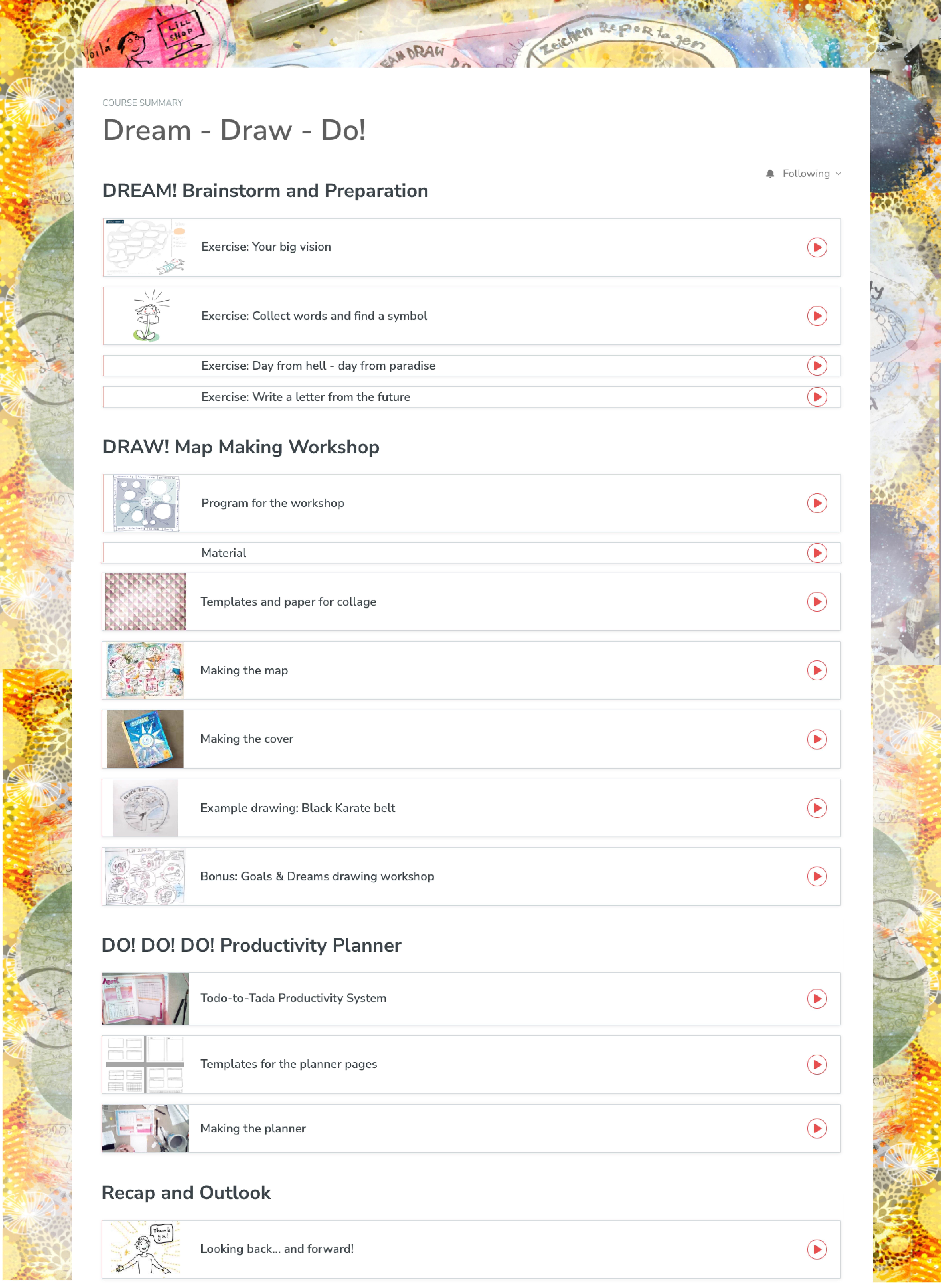 Bonus:
One-hour workshop or of my simple goal setting map for 2020
This class is for you if...
you want to create a year of joy and creativity

you like to draw, paint and create! You don't need to be "good" at drawing. 

you want to meet with a wonderful community of supportive fellow visual thinkers, learn visual storytelling and get feedback on your drawings 
What participants are saying
The question "what do I want to create" instead of "what do I want to get" is really helpful and gives a new perspective to how I see myself. I also use the model in my work when I facilitate groups at the workplace.

Sanina Kürstein 



I loved making a beautiful poster from my visions. I have it hanging above my desk and enjoy looking at it every day! My vision helps me keep focus on my dreams - and make them come alive.
Mette Brink


In the past, I have created vision boards by cutting pictures out of magazines but never found suitable images. However, if you draw the images yourself they are coming from you and it doesn't matter how bad you think your drawings are – whatever marks you put on the paper are going to trigger what you had in your mind! 
Mary Strange

Making this vision board was such a fun and joyous experience. Thank you! 
Elena Lahrer
Why learn from me?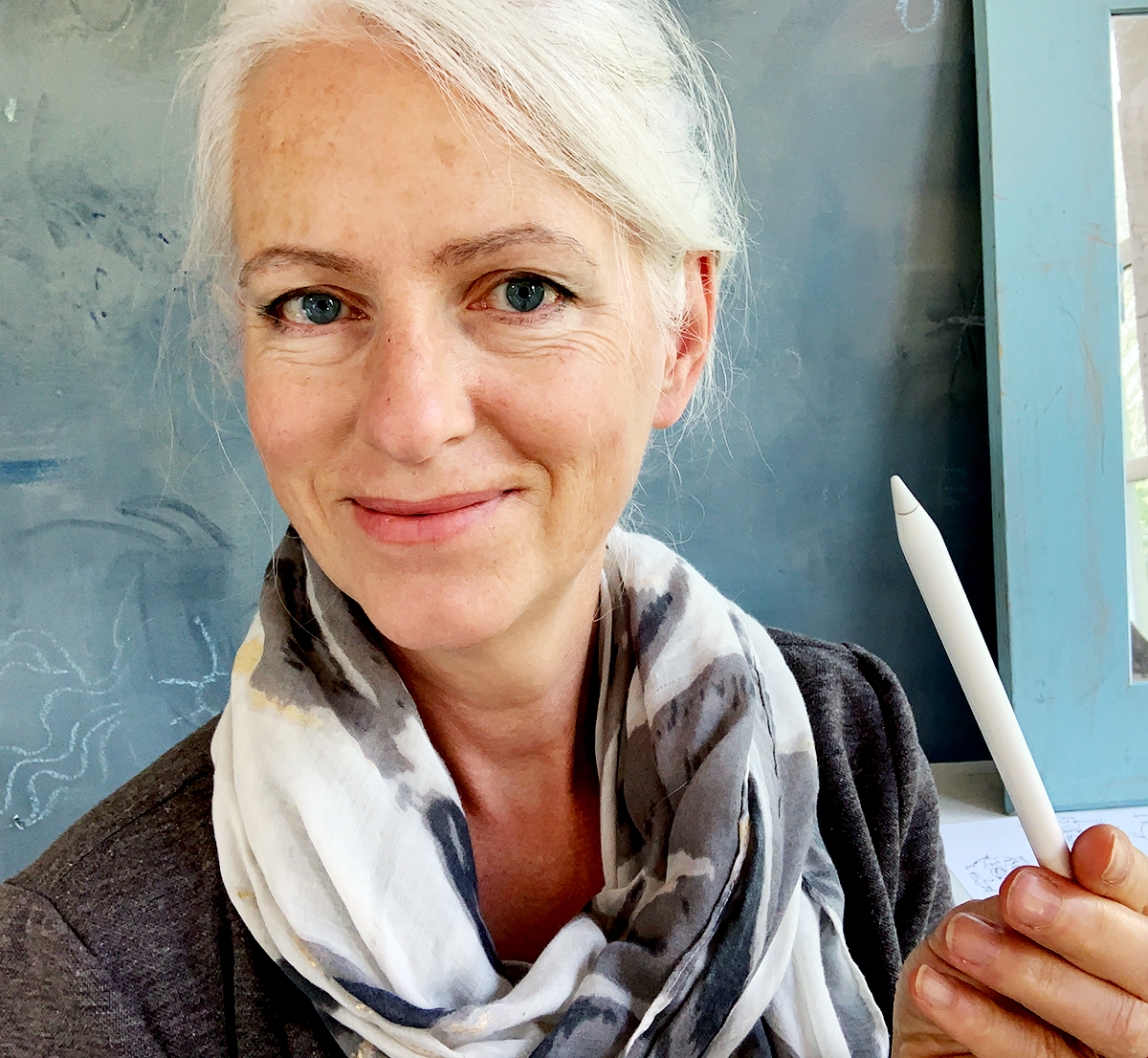 Hi, I'm Ingrid Lill. Communication designer, illustrator and branding coach. I am German, live in Denmark, and  I speak English in my classes. 
I have drawn all my life.  But it was first after I started doing graphic facilitation  for organisations that I embraced the "fast and fun" illustration style that I'm teaching now. I share all the most useful tricks that I have learned over the years.
Drawing has transformed my business. It helped me stand out and escape being a generalist graphic designer. Now my business is not only more fun, but also more lucrative. 
No matter if you are a total beginner, or you you just want to pick up the pencil (again) and learn a few tricks – I promise you that this class will be useful and a lot of fun!