If you can't draw a picture of it, your message isn't clear enough!  
FIND YOUR MESSAGE  
Course for Coaches, Consultants and other Creatives


Do you have (too) many ideas?
Confused about your business model?
Struggling to articulate your message?
Visual thinking to the rescue!

If you sketch your ideas out on paper you can SEE what you do for your customers - and marketing becomes much easier. It is as if you could walk around in your ideal client's life and directly talk to them.

In this course I teach my Brand Storyboarding methodology that you can use for yourself or for your clients. 
You don't have to draw pretty pictures - but my "Simple illustrations for Business"-course is included in the price. 

People think "I need to get good at is selling and pitching". But no. The first thing we need to go deeper on is clarity. This work that Ingrid is doing is where it all starts.
Tad Hargrave, Marketing for Hippies
Many creative people are visual thinkers. 
Imagination is your superpower. 
I bet you are not using this superpower nearly enough.
We are told that "business" means slick sales copy, flat spreadsheets and boring clipart.
INothing is further from the truth. My business began thriving when I embraced that I am thinking in pictures!
You can use your superpower - even if you think you can't draw. 

Get clarity about your business and brand
If you find it difficult to connect your many ideas to a  big picture of your business
Marketing and business talk bore you to death.

You just want to get to work and create...

Brand Storyboarding is a fast, fun and inspiring way to take a fresh look at  your business.
We connect the dots of your message, your story and your service in a way that tells a compelling story. A story that attracts your ideal clients! 
You walk away with a blueprint for your business communication that you can use on your website, social media profile and videos. And ... it is a tool that you can use for future projects, and with your clients! 
With a Brand Storyboard you can SEE the big picture of your business
WARNING:
THIS PROCESS MIGHT CAUSE YOU TO STOP HIDING
AND START FOCUSING!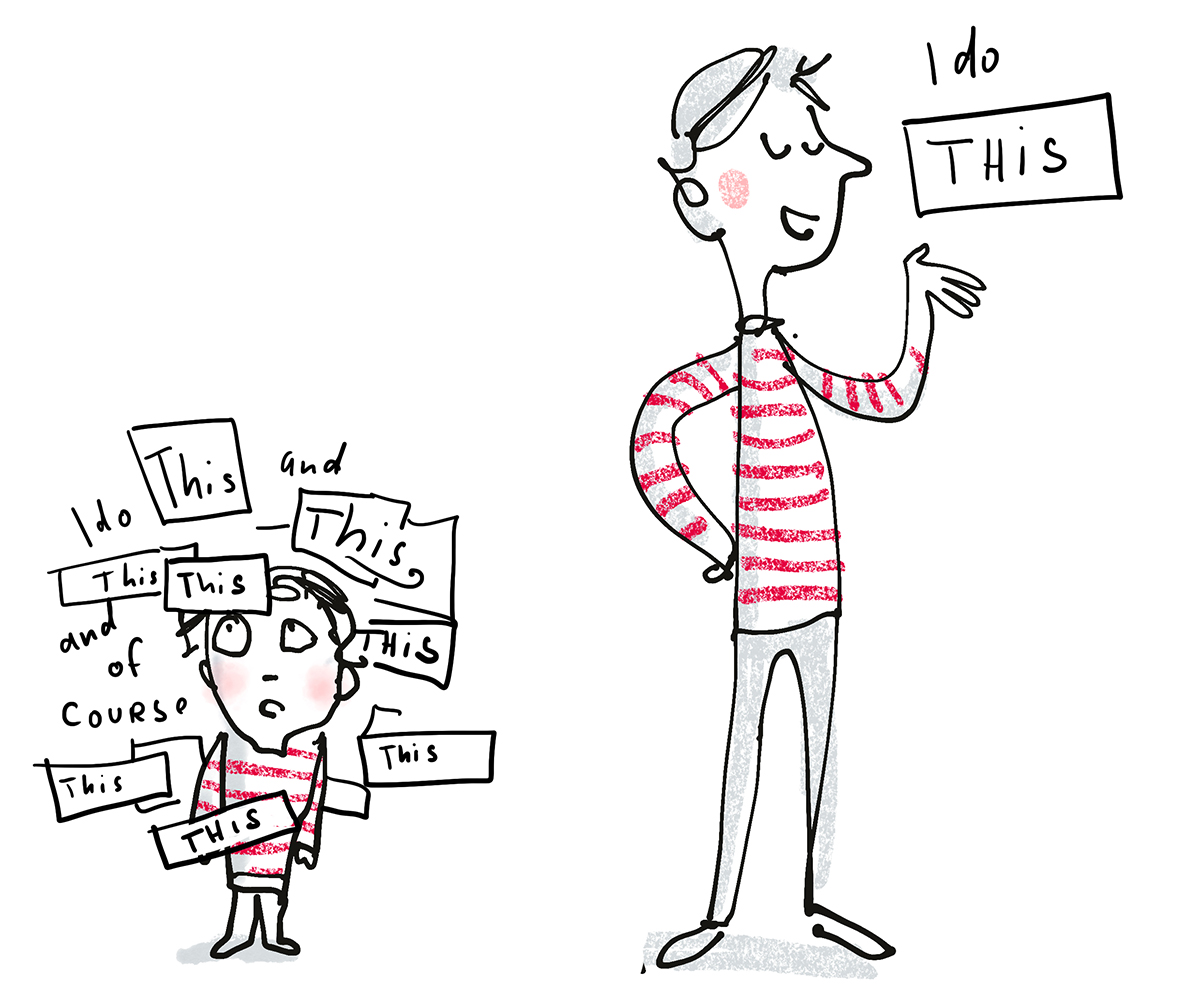 I didn't know how to talk about what I do, how to sell it and to show I it to the world. Brand Storyboarding helped me to get clear about what I do, and how to express it in a way that is aligned with my mission. 

Ana Umbelino, High performance facilitator
I've long struggled with niching down and saying what I do in a succinct and impactful way. I found the process difficult and frustrating.
With Ingrid's visual process I'm finding it so much easier to clarify what it is that I do. It's actually fun! I'm really excited about the impact this will have on my business too. 
Mojca Henigman, NLP coach for purpose-driven solopreneurs
Connect the Dots
I struggled with the Many-Ideas syndrome for years.
Drawing up my business visually helped me get a grip on my message and transformed my business. When I saw it before me, all of a sudden it clicked! Since then I'm on a mission to spread visual thinking for business! 
What is your mission, and how do you shout it out to the world?
Imagine - there is a fun, inspiring and visual way to find your business idea, positioning, and offer!
You'll get a deep understanding about how to talk to your (prospective) clients so they understand, listen, and buy.
The visuals give you the opportunity to see "the big picture" of your business and see it from outside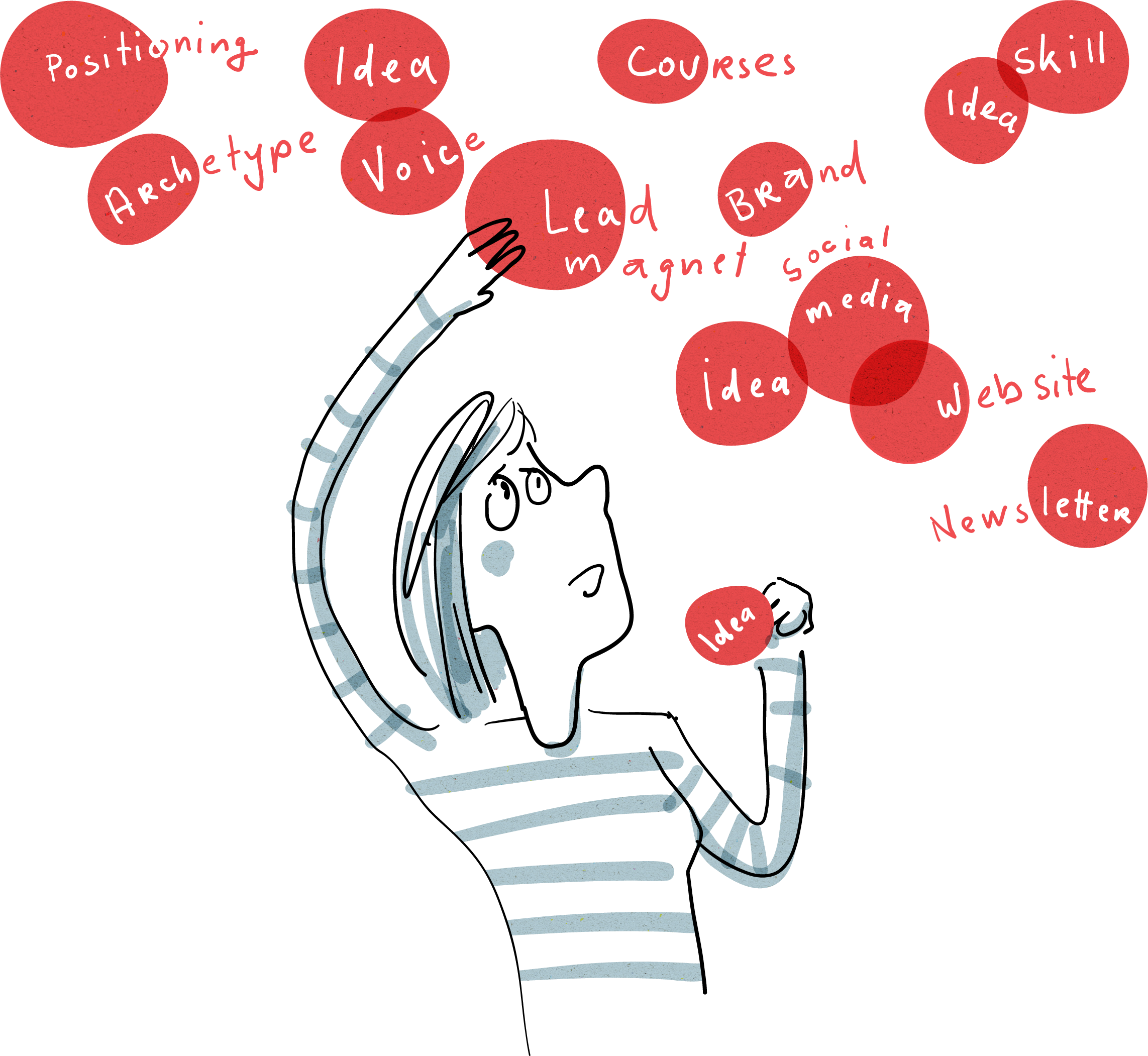 Ingrid has terrific insight .. Highly recommended for those needing a new level of clarity in their brand.
Rochelle Moulton, authority brand consultant
I thoroughly recommend attending a course or workshop with Ingrid. I have watched her untangle hot messes of really great ideas from super-smart people and arrive at insights that blow them away.
Cleo Huggins, graphic designer

What can I do with a Brand Storyboard? 
Brand Storyboarding is in my experience the easiest way to get to a compelling website or a social media profile that gets you clients. 
Who needs the Brand Storyboard course?
Coaches and other business owners who are struggling to articulate their message and attract clients.

Consultants who want to expand their own toolbox 

Anybody who wants to use visual techniques to communicate more effectively! 
What is the Brand Storyboard idea based on?
It is based on the classic hero's journey as it is used in countless movies, books and marketing. The inspiration comes from Donald Miller's book "Building a story brand" and from other marketers and storytellers. 
 You, the guide, is helping the struggling hero to get out of the pit into paradise. You can read more about what I do on www.lillbranding.com
In this course, you get my input on your brand AND learn the process yourself.
What if I can't draw?
You don't have to! Stick people are fine. We don't draw because it should look pretty, but to look at the big picture of your business. 
But you can't avoid picking up some drawing tricks when you watch me draw the storyboards in the course, so you will sketch with more confidence afterwards.  
Can I keep the course?

You can keep the courses forever! 

Are there live meetings?
This is a self study class, but there are occasional live meetings for course participants – about finding your message, about drawing and about other topics related to business. You can come to the meetings if the topic is of interest to you. You can also request topics.  

This is actually consulting for your business. Ingrid is helping you how the whole thing can be put together.  Within three sessions we have drawn the story of my brand! It is just excellent. I recommend everybody does it!"
Libbla Kelly, positivity coach
In one short session, Ingrid brought unexpected insight to my personal and business brand and vision. Not sure how she does it, but her discovery questions and sketching magically create clarity. I recommend anyone in business to experience her incredible creative flow.
Kim Piller, Sales Coach

 What is included?
1) Find-your-message course with worksheets and prompts that you can work through
2)  Live calls 60-90 minute on Tuesdays, at 8 PM CET (Copenhagen) every week through the course... and then three months of access to the Visual Thinker's Business Club meetings. 
In July and August this will be a "Basics" course and lots of summer drawing for fun! 
Bonus: The Simple illustration self-study course!
Call recordings, templates,  and other course material will be available on the course platform.
Ingrid Lill – Business Coach with a pencil
 I help coaches and consultants to figure out their brand. 
First of all - I love drawing! I am a visual thinker and I love colours, images and design.
Sketching my ideas had always been natural for me. I studied visual communication when layouts were still drawn by hand. This turns out to be my "unfair advantage" now!
As a communication designer and art director, I designed countless corporate identities, websites and other things.
As designing became easier with all the pretty pre-made templates, I also became increasingly dissatisfied with it. Everything looks and sounds the same!
I wanted to help my clients stand out.
One day heard marketing guru Donald Miller say: "If you can't paint a picture of your message, it isn't clear enough."
I knew in my bones: This was it. I could help my clients draw this picture!
That's how  Brand Storyboarding was born. I made use of my visual thinking capability - and it became a game changer for me, and my clients.
This strategic sketch is the missing piece to get from vague ideas to compelling content -  for a website, presentations and videos.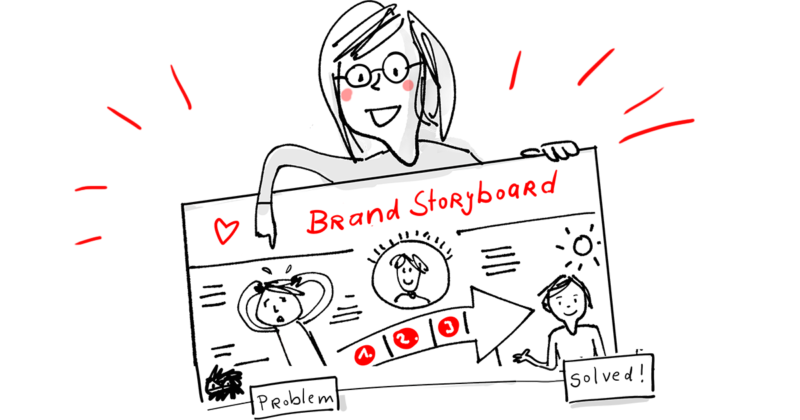 Once the big idea is clear, it becomes easy to fill it with the right kind of images and stories.
Marketing can be fun!
Since then I'm on a mission to help business owners sort out and communicate their brilliant ideas, stand out and become visible.
When I don't draw for business, I draw or paint for fun (check out my LiLLuminations!) or I'm out in nature - we live by a little lake in the countryside.
Watch the video below to see what emerges from our lake!
I am glad that you found your way to my site. I'd love to keep in touch with you – you can subscribe to my illustrated newsletter!