Coaches, Consultants and Creatives
Drawing on the iPad 
Master digital drawing in record time! 
The secret to professional-looking illustrations
even if you think you can't draw!
Have you ever felt frustrated when trying to sketch your ideas ?

Do you wish to make your social media posts more personal and engaging, but struggle to find the right visuals?

What if I told you that you could learn to sketch your own illustrations, even if you think you can't draw?
This 5-week course can transform you into a confident creator! 
Join us and bring your ideas to life
Ditch boring stock images and stand out on social media with your own illustrations

Communicate with personality and humor

Visualize strategies and solutions for your clients and your own business

Create dynamic powerpoints and teaching materials

Infuse your business with fun and creativity 
I know all too well that drawing can seem daunting. But I can assure you - when you shift your mindset from "making art" to "communicating your message", everything changes. 
Step by step, I will guide you from simple scribbles to professional-looking illustrations that pop off the page.
If you are a beginner, you'll find The "Simple Illustration" course a great place to start. It takes just a few hours and is included in your membership.
Illustration can be easy! 

You can also draw on paper! I scanned my pencil sketch and added shading and a photo background in Procreate. Digital magic! 
But wait, there is more!

This course isn't just about tools and techniques. It's about using visual communication to share your unique business message. Together, we'll sketch, strategize, and refine your visual voice for your business.
We'll explore diagrams, mind maps, and other visual thinking tools to simplify complex ideas and engage your audience like never before.

"Discovering the iPad was a game changer for me_ 😄✨I hadn't drawn since I was a child, and to draw again is both delightful and exhilarating

Tarja Moles, coach and writer




Listen to Tarja's "iPad endorsement" in one of our Tuesday group sessions. 
Let's generate images with artificial intelligence
Get inspired by these stunning visuals created with my Apple Pencil and Midjourney and envision what you could create soon.

You might wonder, why draw by hand, when you could just press a button?
The answer: Everybody is pressing buttons these days! 
Why not combine  artificial intelligence tools AND with your own scribbles? 
When you ad your own drawing to tell your story, you stand out and share your unique humanness that no AI can replicate. 
Plus, it is fun. For you, and for your audience! 
In this course, I share my process, I show how I play with Midjourney and how I combine it with my own drawings. 
Your Learning Journey
You will get access to our self-study iPad course when you join the Visual Minds Membership. 
You can explore the course in your own pace, and combine it with "Simple Illustration" for fun and easy drawing prompts.
Live classes will take place most Tuesdays from 8-9 PM Copenhagen time. Meetings are recorded and uploaded to the course platform for you to review when you have time.
You can send me your drawings, and I'll give feedback and answer questions. 

Technical requirements
I recommend an iPad that works with an Apple Pencil. As for apps, I primarily use Procreate and Concepts. A "Paperlike" screen protector can make your drawing experience less slippery and more enjoyable. 
You can use other devices or apps that support layers. The same principles apply - but I have only experience with the iPad. 
For Ai generated images, I recommend using Adobe Firefly. It is easier to use than Midjourney, and will produce great images to start with.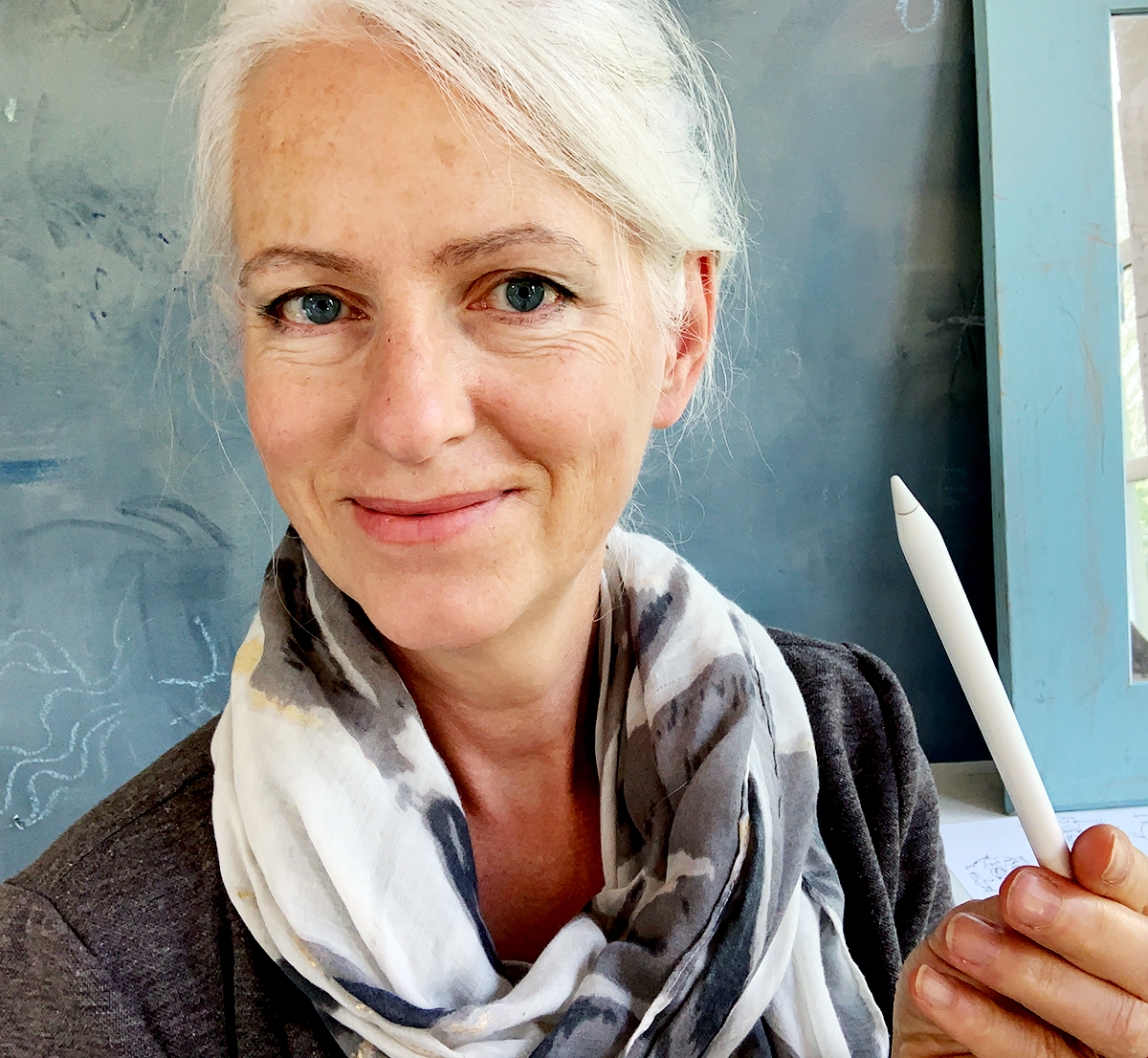 Hi, I'm Ingrid Lill -  communication designer and professional illustrator.
I have loved drawing all my life, but for the longest time, I didn't dare to use my drawings professionally.
Like many other entrepreneurs, I thought I had to focus on my bottom line, not fun drawings. Boy, was I wrong!
My life changed when I discovered that drawing doesn't have to be "art" and that it can be easy. I learned how to use simple sketches to gain clarity for my clients.
It brought more creativity, fun, and beauty to my business, and I'm making way more money than "before the pencil".
Now I am on a mission to show that for entrepreneurs, sketching isn't just a luxury.
The thing is - as a creative person in business, you cannot keep creativity and business separate. They need to support one another. 
If they aren't woven together, not only does your soul shrivel up – your motivation for your business shrivels up alongside it.
But when you start being a visual thinker in your business, it brings vision and exploration back to your life while adding more fun to everything you do.
When that happens, your creative spark gets back on board.

So... Take that pencil already!