The
Visual Thinkers' Business Club
Think on paper - sketch your strategy - create your business
Coaches, consultants and other creatives
Sketching with confidence is an amazing skill to add to your toolbox! 
Inspiring courses & a lovely supportive group of fellow learners
Starting on May 24th
Find your message in three (visual) steps
Brand Storyboarding Course
A picture speaks faster than a thousand words
If you're a visual thinker, drawing is one of the most useful skills you can learn for your business!
Draw simple sketches for teaching and presenting


Sketch your customers' journey


Draw a visual model of your service


illustrate our social media posts



and sometimes, we draw just for fun 
Even if you don't have any ambitions to draw pretty pictures - as a business owner you should know how to visualizeyour product idea or business plan on the back of a napkin or a flipchart. 

The best way to learn:
Self study PLUS live sessions
We meet (almost) every Tuesday on Zoom. It is a lovely and very supportive group. I teach a new lesson from the current topic, give homework. Give feedback to thedrawings the participants have sent. 
Sometimes we do fast-and-furious sketching sessions. You can hold up your drawing to the camera. 
It is a lot of fun, and very effective! 
Here is a rough sketch of this year's topics. We are right now in the "Find your message" quarter. (Here you see Visual thinking in action. I was literally unable to plan my business without drawing a diagram.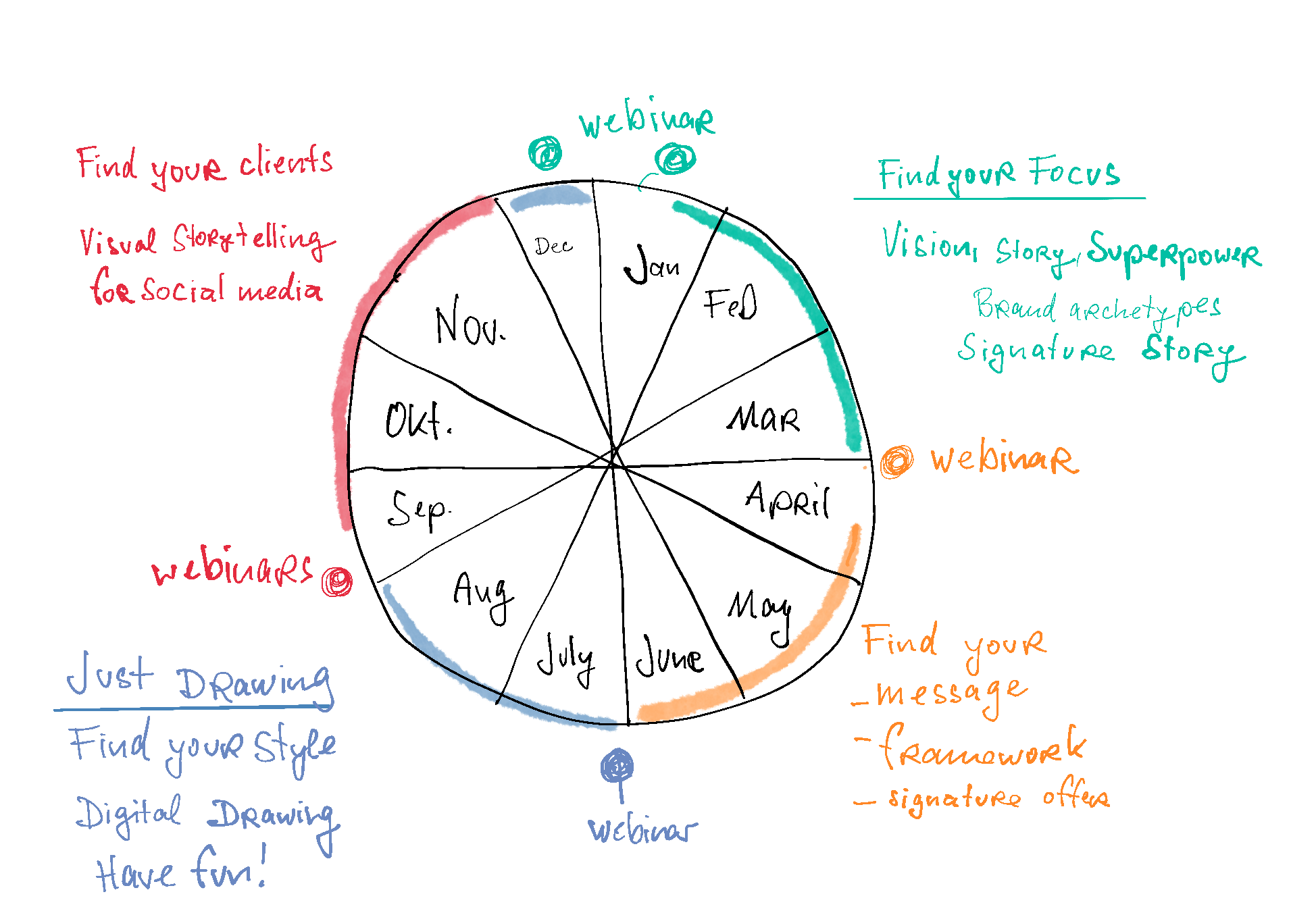 As a member of the Visual Thinkers Business Club you get access to all these courses  - see an overview and preview of the lessons
Check the calendar below for live rounds of the courses. 
You can also buy them as standalone self-learn courses (send me an email) - but it is more fun and more effective in the group! 
Content and program
1. Courses you can access right away
Simple illustration course (info page here)
Find your message - Brand Storyboarding Course (info page here)
Get visible - Drawing for Social media
Find your style
Digital drawing on the iPad

Dream - draw - do. Find your vision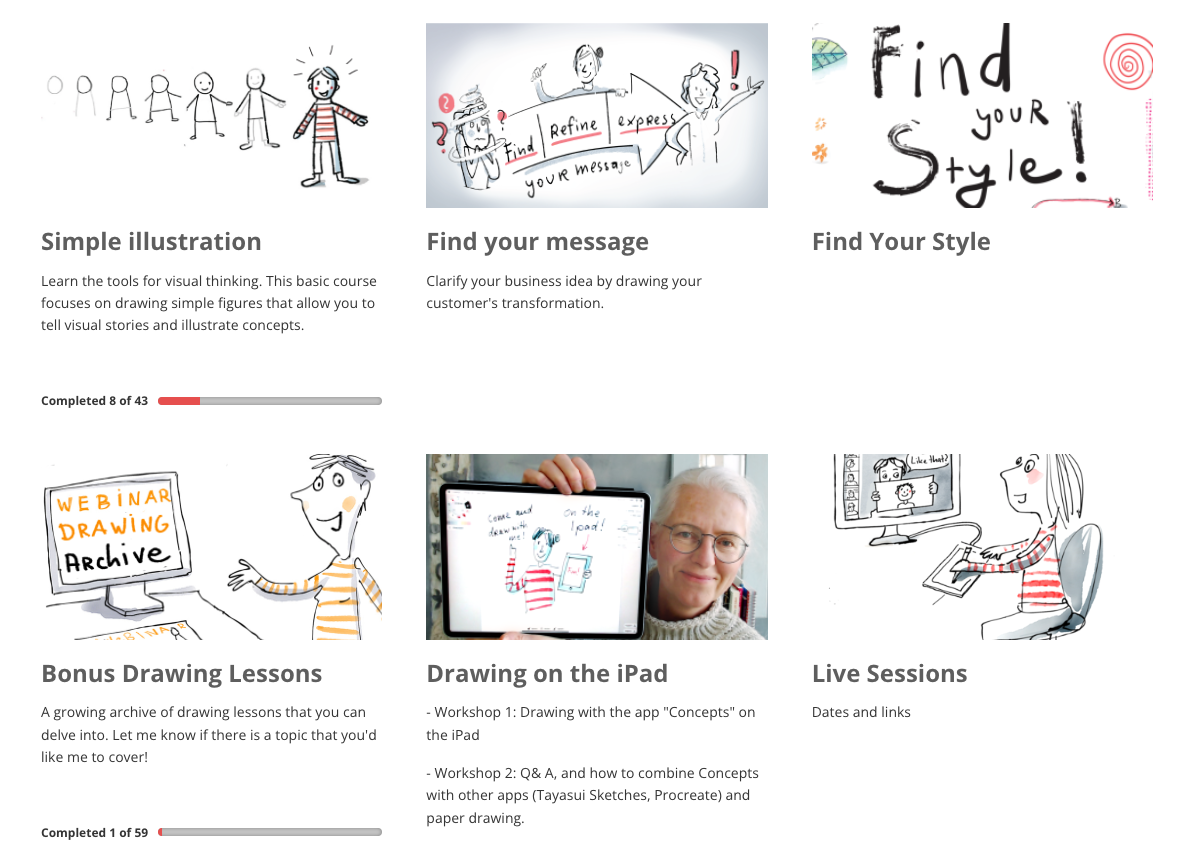 Click to see a preview of the courses and  lessons
2. Live courses, workshops & group coaching: Practicing together
Live drawing & coaching on Zoom - together with a bunch of fellow visual thinkers. (Almost) every Tuesday, 8-9 PM Copenhagen time 


Find Your Message Course:  Get clear about your brand through business storyboarding.

May 24 - June 28  read more or purchase separately



Simple illustration Summer.  Basic drawing + drawing just for fun!
July 5 - August 30 (some Tuesdays off!)




Find your clients - Drawing on social media September 
6th - November 29th



Draw-your-dreams workshop 1 December 6th
Draw-your-dreams workshop 2 January 10th 2023



Find your Vision Niche down on your Superpower -
Jan 2023  
A peek into one of the live sessions
What Club members are saying - and drawing!
After a few weeks of sketching  ... I'm sharing my first business drawing on LinkedIn today 🙀
I've been supported by a wonderful group of people in Ingrid Lill's excellent Business Drawing Club.

Mark Crossfield, Career Coach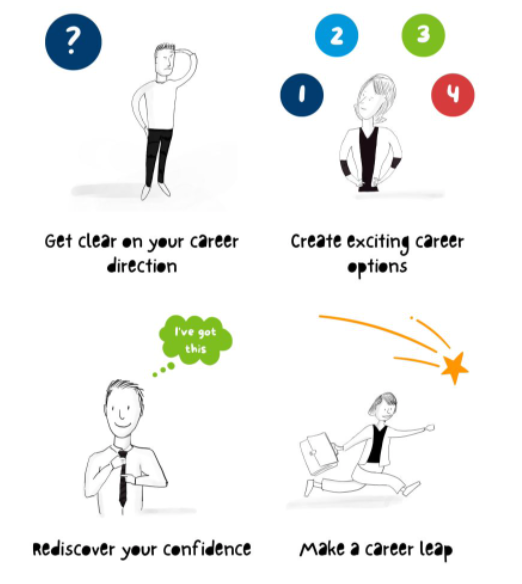 Ingrid thanks for a great session today, and all the knowledge you shared. I spent the day working on cartoon characters for my character voice portfolio…pretty fun.
This was exactly what I was hoping to get from the course.
Justin Hamacher, Experience Design Leader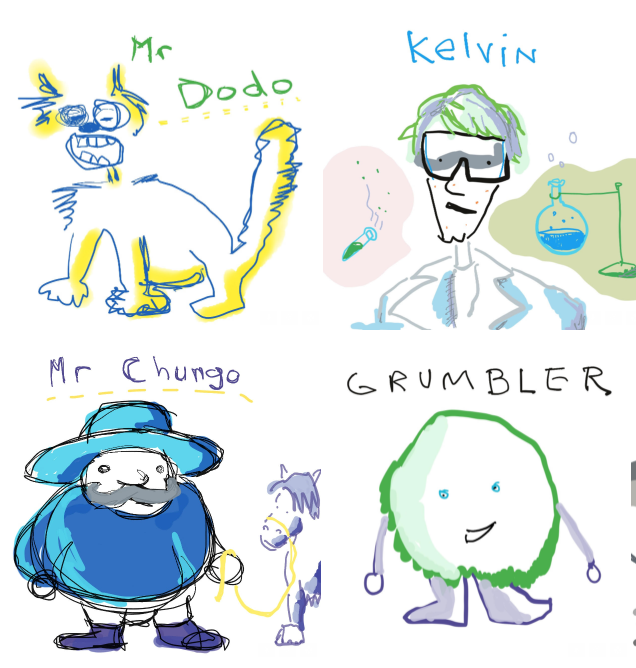 I wanted to do learn how to do laid back informal sketches on my PowerPoints and infographics for my trainings, rather than using boring, stock images from the internet (as the topic can be a bit dry). 
The course lessons are easy, I love them! It was about time I have some fun and learn something new. 
Maria P.
 Absolutely love the Tuesday evenings with Ingrid Lill. She is a professional illustrator. Tonights theme was "going crazy" with bright colors. Certainly got my mind on something else – I feel refreshed!
Helle Langgard, Coach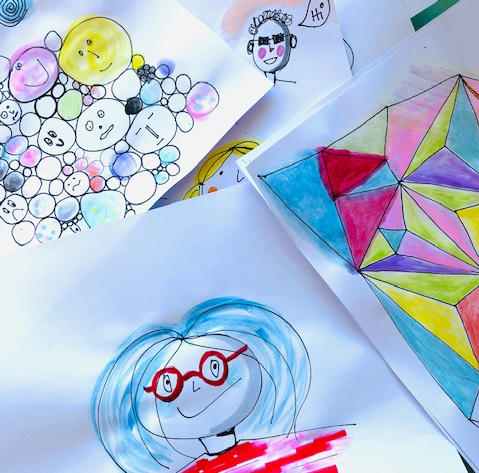 Thanks a lot – you rock mixing serious marketing tactics with drawing! 
It certainly gave me more confidence to express myself with drawing.
Nico Brier, Web designer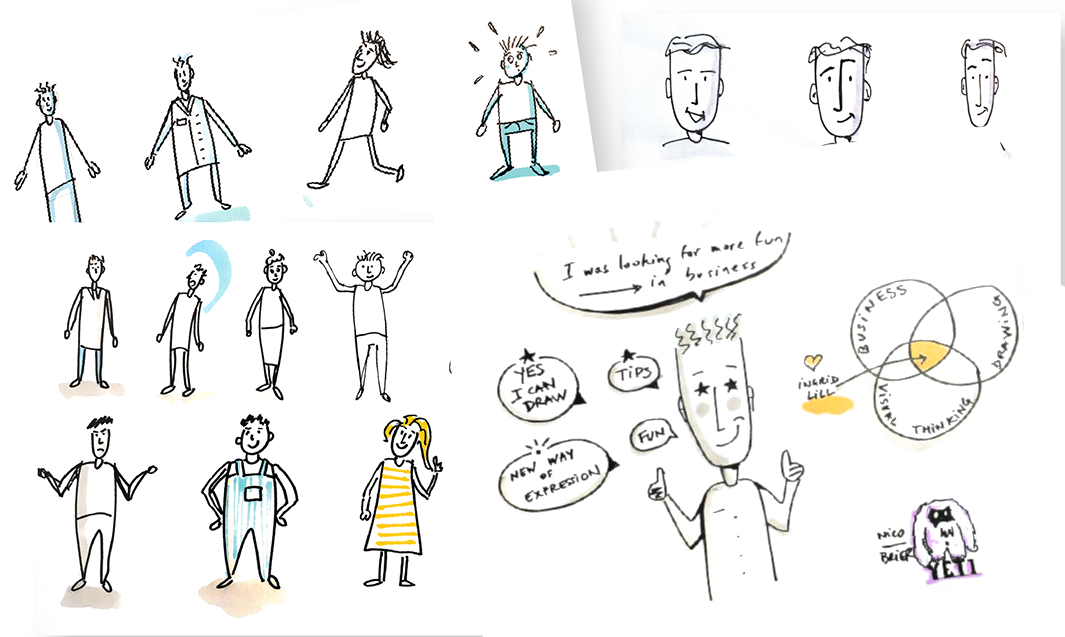 I highly recommend Ingrid's classes! You get loads of step by step instructions, helpful templates, tips and tricks.

Best of all, you can get direct feedback on your drawings and design, and also learn how to digitalize. The classroom is a great learning environment.
As an added bonus, Ingrid has a knack for building a rich community!
Michala Storm, coach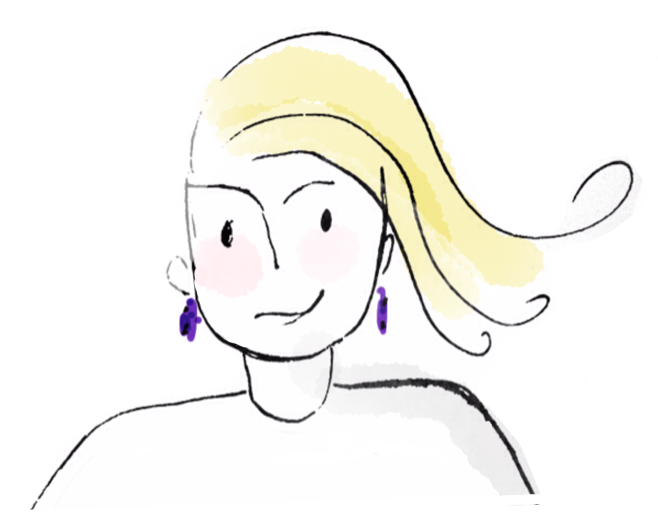 Ich wollte schon immer lernen, mit wenigen reduzierten Strichen das Wesentliche festzuhalten. Ingrid hat eine wunderbare Art, ihre Erfahrung und ihr Wissen vorbehaltlos weiter zu geben.
Ich freue mich jede Woche auf den Dienstag abend – auch nach einem langen Arbeitstag kann ich die Stunde in dieser tollen internationalen Runde genießen. Vielen Dank, Ingrid!
Eva Langhans, Textildesignerin
Jeg havde længe overvejet at finde en, der kunne lære mig at tegne, så jeg kunne bruge tegninger til at blive en bedre formidler. En dag fangede Lill's tegning på Linkedin min opmærksomhed. Den var humoristisk enkel og sagde mere end 1000 ord.
Så nu har jeg næste hver tirsdag aften deltaget i webinarer sammen med en international gruppe af Ingrid Lills dygtige deltagere, hvor vi får inspiration til at forenkle, jonglere og modulere vores tekster og tegninger på en helt ny måde. 
Det er langt mere, end jeg nogensinde havde forestillet mig. Tusind tak Ingrid Lill for alle dine gaver
Inger Hartelius, Marte-Meo coach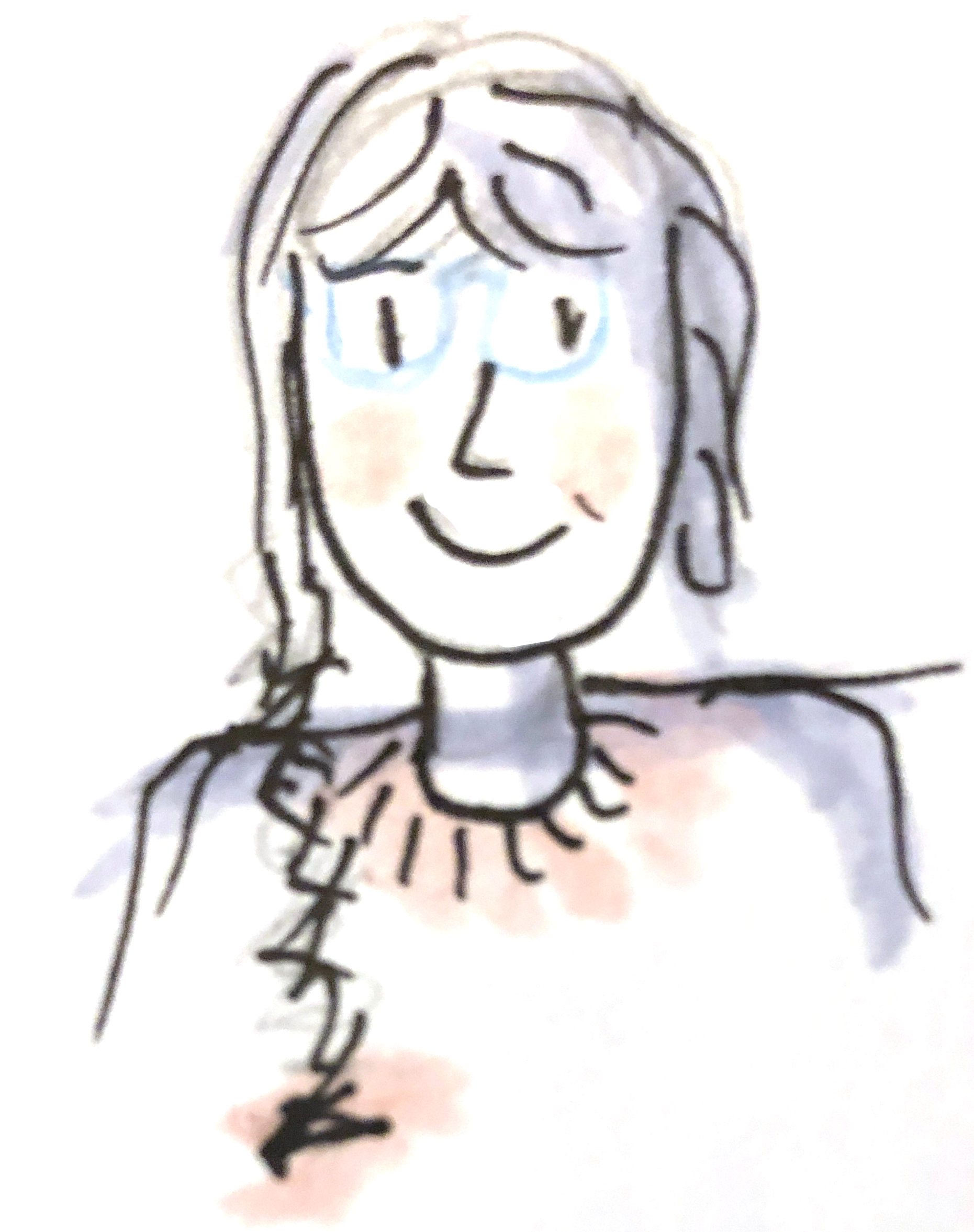 An dieser Stelle mal ein grosses Lob an den Zeichenkurs von Ingrid. Es macht einfach richtig Spaß, man kann sein eigenes Tempo bestimmen, erhält Tipps u Tricks und hat nie das Gefühl überfordert zu sein. Dass alles in Englisch abläuft ist auch gar kein Problem. Da Ingrid viele kleine Clips einfügt und gut verständliche Texte schreibt versteht man so gut wie alles. Dieser Kurs bringt mich wirklich dazu jeden Tag ein bisschen zu zeichnen. Und das mit Lust und ohne Zwang.
Man merkt ich bin richtig begeistert 😀 deswegen von mir 5 Sterne u Daumen hoch!!!
Elisabeth Triebel, Formfalt
Our manifesto